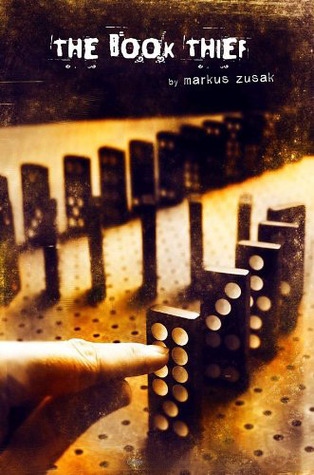 Title
: The Book Thief
Author
: Markus Zusak
Publisher
: Knopf Books for Young Readers
Rating
: 4/5
Listened to in English
Summary:


It's just a small story really, about among other things: a girl, some words, an accordionist, some fanatical Germans, a Jewish fist-fighter, and quite a lot of thievery...
Set during World War II in Germany, Markus Zusak's groundbreaking new novel is the story of Liesel Meminger, a foster girl living outside of Munich. Liesel scratches out a meager existence for herself by stealing when she encounters something she can't resist–books. With the help of her accordion-playing foster father, she learns to read and shares her stolen books with her neighbors during bombing raids as well as with the Jewish man hidden in her basement before he is marched to Dachau.
This is an unforgettable story about the ability of books to feed the soul.

(Goodreads)
My review
:
I'm still not quite used to audiobooks since, before this one, I only listened to two more. And since historical fiction isn't what I like most, I didn't think I would enjoy it but I did, actually. I'm the first one surprised. The story is deep, well executed, the characters are well built and endearing. I loved Liesel, adored her foster father and Max. Even Rosa with all her cursing. Rudy also is quite memorable.
I didn't really expect anything from this book. I was taken aback by the way Markus Zusak led his characters and the way he told his story. I thought it would be different. But I was swept into it quickly, wanting to know what would happen to young Liesel, how she would become the book thief.
What I loved the most about it is the omnipresence of books. It starts with a book and it ends with books. I loved how Markus Zusak used the real history of the Germans burning the books during the war to turn it into a message so deep, so full of hope. I especially loved the gift Max leaves for Liesel. I won't tell much about that part to prevent any spoilers but that gift is so cute that I liked him even more.
It was really a good and beautiful book but all the hype there is around it... I don't understand it. I'm not disappointed since I started it without any expectations but I still don't see why all the hype. Especially since I think it lacks a bit of emotion. Especially in the end. I don't know if it is because of the audiobook or not but, to me, it lacked emotions.
Now, I'm off to watch the movie since I'm curious!