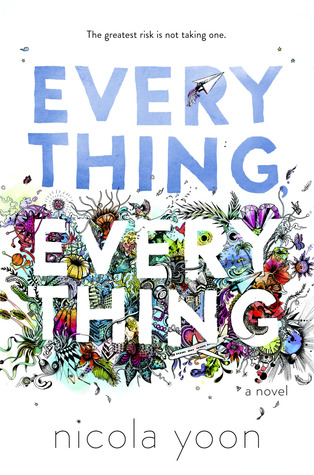 Title
: Everything, Everything
Author
: Nicola Yoon
Publisher
: Delacorte Books
Rating
: 5/5
Read in French
Summary:


My disease is as rare as it is famous. Basically, I'm allergic to the world. I don't leave my house, have not left my house in seventeen years. The only people I ever see are my mom and my nurse, Carla.
But then one day, a moving truck arrives next door. I look out my window, and I see him. He's tall, lean and wearing all black—black T-shirt, black jeans, black sneakers, and a black knit cap that covers his hair completely. He catches me looking and stares at me. I stare right back. His name is Olly.
Maybe we can't predict the future, but we can predict some things. For example, I am certainly going to fall in love with Olly. It's almost certainly going to be a disaster.
My review:

This book is surprise, almost a favorite. It's surprising, full of humor and powerful feelings.
Maddy is an endearing character. She's so innocent, funny, courageous, full of dreams and desires she knows she can't reach. Her disease forces her to stay locked away in her house with, for only company, her mom and Carla, the nurse who comes regularly. It's not the first time that neighbors move in in the house in front of her but Maddy knows everything will be different this time.
The way she spied on the new family is funny. It's her only way to get a link with the outside world.
I liked Olly. I hated his father, took pity on his sister and mother. Olly is generous, swift, agited. His behavior may seem a bit exaggerated at first but I grew used to it. We can't help but get attached to him, to his way of behaving around Maddy.
What I liked most about this book were the illustrations, the pages of Maddy's notebooks... All the graphic work in this book is amazing. I loved reading what really looked like emails and the drawings and diagrams of Maddy.
The plot twist in this novel is unexpected. I saw coming a bit before it was revealed, knowing a bit of this syndrome of which I can't remember the name and the author didn't clearly named it in her book.
The ending is so cute I'm still squealing over it. I would have liked to see a bit more of what the author hints at. I'm curious like that. About Maddy's mom, I think we know too little, it was too hazy. I would have liked to know more about what happens to her.
Anyhow, I really liked this book. It's touching, deep and funny. The way Maddy discovers the world and love, thinking it's a disease... It's adorable and cute to the max.