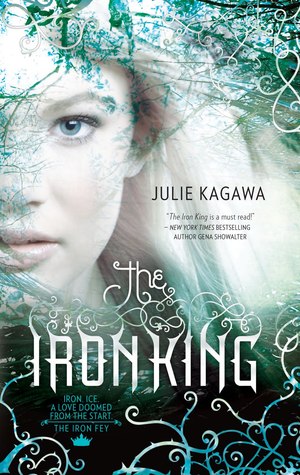 Title
: The Iron King
Series
: The Iron Fey #1
Author
: Julie Kagawa
Publisher
: Harlequin Teen
Rating
: 4/5
Read in English
Summary:


Something has always felt slightly off in Meghan's life, ever since her father disappeared before her eyes when she was six. She has never quite fit in at school or at home.
When a dark stranger begins watching her from afar, and her prankster best friend becomes strangely protective of her, Meghan senses that everything she's known is about to change.
But she could never have guessed the truth - that she is the daughter of a mythical faery king and is a pawn in a deadly war. Now Meghan will learn just how far she'll go to save someone she cares about, to stop a mysterious evil, no faery creature dare face; and to find love with a young prince who might rather see her dead than let her touch his icy heart.
My review:
I know, I know, this book is pretty old. It has been waiting for me to read it for quite some time now and I finally did it!
I don't know what I was expecting from this novel. Probably not what I had. First, it takes a bit of time before really starting but the happening arise from chapter one. It's quite weird but I didn't feel like it was beginning even though Meghan starts seeing things. I still don't really know what I'm thinking of this...
What was the most difficult to handle in this book were the chapter titles. I felt like every single one of them was a mini-spoiler. I stopped reading them because it was the only way for me to have a little surprise while reading.
I didn't like Meghan's character. She's a teen, yes, but she acts like a whiny little brat. But the world, Puck, Ash... I liked them. I didn't adored them but I really liked them. I love the Faery world and I never was disappointed by a novel talking about the Faery. It's not really the case here. I believe the style is just a bit too... young, too teenage-y for me.
I loved Puck. He's funny, endearing, provokative. We see there's much more than what he wants to reveal and what happens to him... I still don't know what I think about it. It bothers me because, suddenly... he's not really there anymore. I didn't feel like there was a point in this, that it would lead to something. I felt like the author needed him out of the way for what happens next.
Despite Puck being "gone", there's still Ash. Cold and distant Ash, third son of Queen Mab. The sexy and dangerous Ash. The perfect stereotype of a bad boy. But Ash is nonetheless really, really attractive and I loved his character. This unreachable cold side... I liked him a lot.
The world is well-built even if, somehow, we don't see that much. Not what I wanted to see and not enough. I really hope to see more of it in the following books because there's not enough for me in this one. We see some but not enough, not what I was waiting for. It's not really the Faery. I don't know if I'm understandable in this review. It's all in contrast. I think it's the hardest review I ever had to write.
As a conclusion (since I definitely need to do one!), I liked this novel despite it being a bit too teenage-y for my taste and Meghan being somewhat an annoying brat. I will try the second book (for Ash but shh!) and I hope I'll see more of the Faery. Strangely, the more I read, the more I wanted to read since it was rather addictive. I think it's what made that series so popular. It's somewhat addictive.