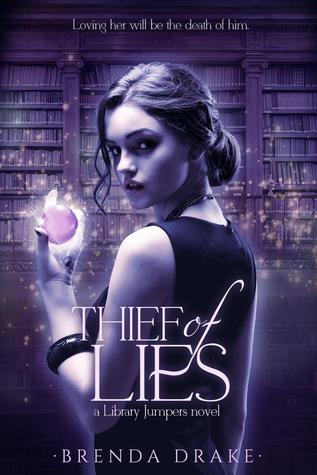 Title
: Thief of Lies
Series
: Library Jumpers #1
Author
: Brenda Drake
Publisher
: Entangled Teen
Rating
: 5/5
Read in English
Pitch:


Gia Kearns would rather fight with boys than kiss them. That is, until Arik, a leather clad hottie in the Boston Athenaeum, suddenly disappears. While examining the book of world libraries he abandoned, Gia unwittingly speaks the key that sucks her and her friends into a photograph and transports them into a Paris library, where Arik and his Sentinels—magical knights charged with protecting humans from the creatures traveling across the gateway books—rescue them from a demonic hound.
Review:
I LOVED that book. The summary may seem too "teenager-ish" and quite basic (especially the french one) but this novel is pure awesome. It takes a bit of time to start (the only bad side I can think of) but once it's starting, it definitely is and I could not stop before the end.
The world created by Brenda Drake is complex, really well described and, frankly, it's one of the most original I've seen in a while. Moreover, the action happens in libraries. What's not to like?
Gia is a bit whiny in the beginning. I thought I wouldn't like her character, that she'd be annoying but not at all. Only her soft heart could have been somewhat annoying but it can't since the romance is secondary, hopefully. The world, the plot twists, combat scenes and else take most of the place and the romance comes in between, light and well brought.
I can't wait to read the following book because the ending of this one is awful. I wanna know what's going to happen! And I want to go back into Gia's Sentinel world. Maybe I'll finally be able to choose between Arik and Bastien. But, for now, I think Bastien has my preference...
By the way, did I say how gorgeous the cover is?