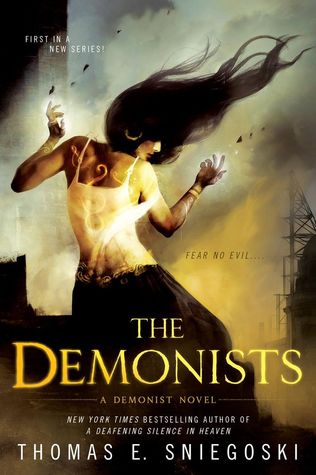 Title
: The Demonists
Series
: The Demonists #1
Author
: Thomas E. Sniegoski
Publisher
: Roc
Rating
: 3.5/5
Read in English
Summary:


It was supposed to be a simple exorcism, a publicity stunt to firmly establish John and Theodora's thriving paranormal investigation empire in the public eye. But something went wrong, leading to an on-air massacre that unleashed a malicious host of demons and left Theodora catatonic, possessed by countless spirits.
John sets out on a desperate quest to find a cure for his wife, but his obsession brings him face-to-face with an even more terrifying problem: Theodora's possession is only one piece of a deadly plot that is threatening the entire world. Because an ancient evil is about to make Earth its battlefield—and without John and Theodora's intervention, there is no chance for salvation...
My review:
I was expecting a lot of this book. I don't know why since I didn't know the author or anything. But the cover was gorgeous, it was about demon and the summary was promising. I'm pretty into ghosts and demons these days so when I found this book, I was glad. I mean, it was supposed to be about demonists aka badass guys fighting demons.
And I fell hard.
The first chapters were good. Especially the first one. It was a bloodbath, awful and everything and I loved that a book begins like this. But the following chapters have to live up to that amazing beginning. In this book, it did not happen. I really wish it did but it didn't.
John's character was boring, unrealistic to the max. Some external points of view arise, not really needed. Sometimes, they even mess up with the reader. Theodora was mostly non-existent. I like that the author tried to show what was happening to her but it didn't give me the effect probably expected. I didn't care.
The plot was messy. I really didn't know where we were going and all I knew was that John was searching a cure. Stuff happens and I lost the logic behind those happenings a lot of times. Moreover, there was too much serendipity with Nana's comings and goings, with Theodora and everything. The ending didn't seem believable AT ALL. I was disappointed like never before. I can't deny the originality of it all but, to me, it was way too much. It didn't seem believable. Just like what happens with the billionaire (I can't remember his name). I couldn't believe it since it was too much.
I am really disappointed with this book. I hoped I would love it and that it would be as great as its cover (because, seriously, this cover is awesome) but it wasn't.