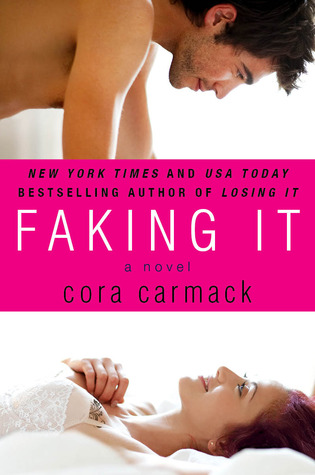 Title
: Faking It
Series
: Losing It #2
Author
: Cora Carmack
Publisher
: William Morrow & Company
Rating
: 4/5
Read in French
Summary:


Mackenzie "Max" Miller has a problem. Her parents have arrived in town for a surprise visit, and if they see her dyed hair, tattoos, and piercings, they just might disown her. Even worse, they're expecting to meet a nice, wholesome boyfriend, not a guy named Mace who has a neck tattoo and plays in a band. All her lies are about to come crashing down around her, but then she meets Cade.
Cade moved to Philadelphia to act and to leave his problems behind in Texas. So far though, he's kept the problems and had very little opportunity to take the stage. When Max approaches him in a coffee shop with a crazy request to pretend to be her boyfriend, he agrees to play the part. But when Cade plays the role a little too well, they're forced to keep the ruse going. And the more they fake the relationship, the more real it begins to feel.
My review:
I loved the first book, which was a surprise since, let's be honest, it is not my type of book, usually. But I love this series, I can't deny it.
In the first book, I didn't really like Cade's character. It seemed like he was juste there to play the best friend stuck in the friendzone and nothing else. He wasn't deep or detailed. So, I didn't really like him.
But now, I loved him big time! He's endearing, adorable, sexy and funny... He has a sharp tongue, smart brain, he's sensitive and everything one can expect from a hero of new adult romance. Much more even. I think I like him more than Garrick. And who can resist a British guy? Cade completely changes the game!
With Mackenzie, they form a great duo and I ship them lie crazy. Max's rebel side is engraved in her pain and her sadness and we slowly see her discover slowly, step bu step, clinging onto Cade who helps her gently, greatly...
I loved that couple. Their story is adorable, THEY are adorable! They are so believable and I loved everything about them. Max's parents made me laugh like crazy, the events and plot twists just got better and better and I read this book at the speed of light! I can't wait to see the next book since I'm officially a fan of this series! I believe it is the only new adult series I like, actually!