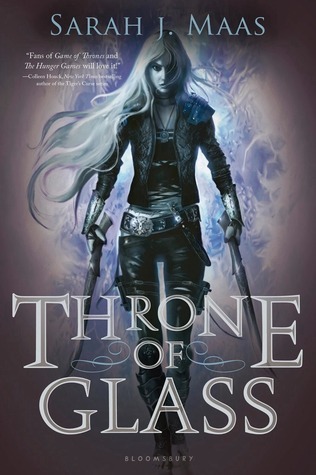 Title
: Throne of Glass
Series
: Throne of Glass #1
Author
: Sarah J. Maas
Publisher
: Bloomsbury
Rating
: 5/5
Read in English
Summary:


In a land without magic, where the king rules with an iron hand, an assassin is summoned to the castle. She comes not to kill the king, but to win her freedom. If she defeats twenty-three killers, thieves, and warriors in a competition, she is released from prison to serve as the king's champion. Her name is Celaena Sardothien.
The Crown Prince will provoke her. The Captain of the Guard will protect her. But something evil dwells in the castle of glass--and it's there to kill. When her competitors start dying one by one, Celaena's fight for freedom becomes a fight for survival, and a desperate quest to root out the evil before it destroys her world.

(Goodreads)
My review
:
I heard a lot about this book on booktube and I decided to give it a go. I did it in English because, honestly, the French version was just... urgh. They changed Celeana's name and everything... It just seemed to suck. So I read it in English and I'm just... Wow-ed !
This book is freaking AMAZING! The start is quite slow but when it finally really starts... it blew my mind! It was a lot more than what I expected. I thought it would be really YA-ish and not my type but I loved it. Celeana is a strong character and I loved her. Seriously. She's amazing and feels real. I would have liked her a bit more... bad. But overall, she's badass and strong and her courage is incredible.
I worried about the romance part (that's put as the main part in the French summary...). I thought it would be too much or something like that. But it's not. It's light and well included. I like how it turned out. It's smooth and done with style. I liked it.
Even if I'm still not sure of my favorite male character.
Seriously! I can't choose between Chaol and Dorian. I LOVE them BOTH! They are amazing in their own ways and they are so different... Sarah J. Maas is already driving me crazy from the first book and I'm scared for what's to come.
My fan-of-thrillers side is quite uneasy with the investigation in the book. I would have liked to know more. It's quite normal for Celeana not to know anything but I like thrillers and investigations, and crime series and such so, yeah, I would have like a bit more about that.
I can't wait to know what's going to happen in the second book. I'm excited as hell and I wish I could start it right now. But I have to finish the Mortal Instruments and I'm only on book four... These books are sooooo huge!