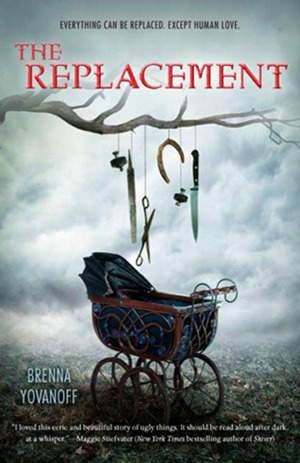 Title
: The Replacement
Author
: Brenna Yovanoff
Publisher
: Razorbill
Rating
: 4/5
Read in french
Summary:

Mackie Doyle is not one of us. Though he lives in the small town of Gentry, he comes from a world of tunnels and black murky water, a world of living dead girls ruled by a little tattooed princess. He is a Replacement, left in the crib of a human baby sixteen years ago. Now, because of fatal allergies to iron, blood, and consecrated ground, Mackie is fighting to survive in the human world.
Mackie would give anything to live among us, to practice on his bass or spend time with his crush, Tate. But when Tate's baby sister goes missing, Mackie is drawn irrevocably into the underworld of Gentry, known as Mayhem. He must face the dark creatures of the Slag Heaps and find his rightful place, in our world, or theirs.
My review:
I heard a lot of things about this book. That it was scary, really well written and such. I was expecting something creepy and exciting. The idea seemed cool enough for me to buy it and start reading it. I managed to go to the end of it but it didn't match my expectations.
I won't say it was bad or anything like this. It was actually enjoyable. The style was nice and I liked it. But the overall novel... Not really.
Mackie annoyed me to no end. With him being the main character, it didn't help. Roswell seemed like a good character but he doesn't appear enough. Same for the twins. Alice is so cliché I couldn't stand her and Tate... She annoyed me too.
The idea of the replacement, of Mayhem and all, I liked it. I didn't find it creepy or scary or anything of the like but it was well thought and well brought. Even though the characters were all annoying, the plot was pretty cool.
What really got on my bad side was the "romance". I don't know if we can call it like that but, somehow, I guess it is some kind of romance. I hated it. I hated every bit of it. It had nothing to do with the story. [Spoilers] Mackie had his eyes on Alice and, suddenly, he kisses Tate? Please! What the heck?! [Spoilers] It makes no sense at all! And those few moments are so out of place!! Honestly, I was so upset at a moment that I just put the book away for a while. It blew it for me.
In general, the book is pretty cool and enjoyable but it's not what I expected. At all. Not totally in a bad way. Mostly but not totally.