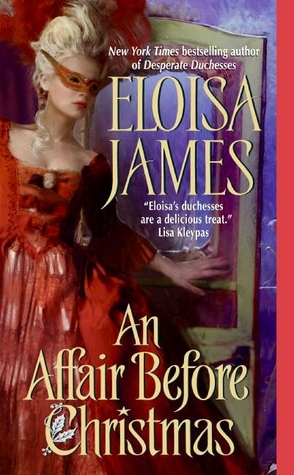 Title
: An Affair Before Christmas
Series
: Desperate Duchesses #2
Author
: Eloisa James
Publisher
: Avon
Rating
: 3.7/5
Read in French
Summary:
Magic under the mistletoe...
One spectacular Christmas, Lady Perdita Selby, known to her friends and family as Poppy, met the man she thought she would love forever. The devilishly attractive Duke of Fletcher was the perfect match for the innocent, breathtakingly beautiful young Englishwoman, and theirs was the most romantic wedding she had ever seen. Four years later, Poppy and the duke have become the toast of the ton... but behind closed doors the spark of their love affair has burned out.
Unwilling to lose the woman he still lusts after, the duke is determined to win back his beguiling bride's delectable affections...and surpass the heady days of first love with a truly sinful seduction.

My review:
I liked the first book but not as much as I liked this one. It's funny and different even if Poppy annoyed me at times. I loved her mother who's just incredible by being so extravagant in every word and every move. I guess she's meant to be hated but I loved her.
Fletch is a character I liked a lot too. The poor man, he's working hard from the beginning to the end. He's trying to finally get Poppy to appreciate the intimate side of marriage. Honestly, I thought he wouldn't make it. Poppy seemed almost frigid to me, unable to take any pleasure. But, in fact, the real reason is just... hilarious and unexpected. Never would I have thought of something like this! The explanation made me laugh real hard. For a moment, I was almost sorry for Poppy but I was laughing too hard to really be!
What bothered me the most (kind of) was the way of telling so much of Jemma's life and her chess games in this book. In the first book, it bothered a bit but not as much. Here, it's not really Poppy's book but Poppy's and Jemma's.
On another side, the reveal of the Duke of Villiers...! How can a man like him have such a name?! I was expecting something more manly or serious. I would even have accepted something like Charles or Phillip! But this one...! Oh, my, how did I laugh!
In this book, we start to feel what's coming up for Jemma and Elijah and the Duke of Villiers. I have prognostics done and I hope I am right because all the clues are in this book even if the two couples are closing the series as 5 and 6. I really felt that the author wanted us to get ready for these two couples and make us read all those in between.
In short, I really liked this book even if there are some little things that prevented me for giving it a full 4/5. Anyway, it has 4 stars on Goodread so who cares?