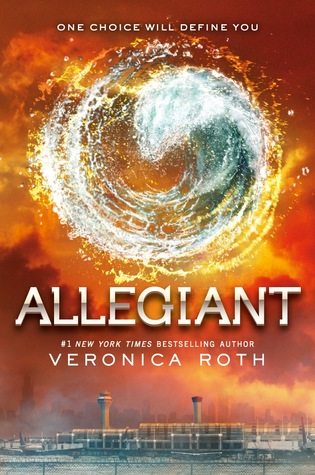 Title
: Allegiant
Series
: Divergent #3
Author
: Veronica Roth
Publisher
: Katherine Tegen Books
Rating
: 3.5/5
Read in French
Summary:


The faction-based society that Tris Prior once believed in is shattered - fractured by violence and power struggles and scarred by loss and betrayal. So when offered a chance to explore the world past the limits she's known, Tris is ready. Perhaps beyond the fence, she and Tobias will find a simple new life together, free from complicated lies, tangled loyalties, and painful memories.
But Tris's new reality is even more alarming than the one she left behind. Old discoveries are quickly rendered meaningliess. Explosive new truths change the hearts of those she loves. And once again, Tris must battle to comprehend to complexities of human nature - and of herself - while facing impossible choices about courage, allegiance, sacrifice, and love.
My review:
This book is somewhat a surprise for me. I loved the first one and hated the second one so I didn't think I's like the third one but I enjoyed it. I won't say it's an explosive finale since I was expecting more from it but it could have been worse.
In this book, there's a lot of world building and we learn a lot. What I liked most was the explanations about the Divergents and the factions. It's deeply thought and well built and even well brought in the book. Everything is easy to understand and take in. The author really worked on this and it shows.
As usual, Tris annoyed me. I knew what was going to happen to her (thank you, reviews with spoilers!) and I was expecting something explosive and more interesting. All that happened was Tris acting up again, making choices I don't understand and that make me want to slap her in the face. Seriously, she only wants to be seen as a hero or what? I just can't like her.
In this volume, the points of view are alternating. It rubbed me off, at first. In the first two books, they didn't. We saw through Tris's eyes so why put Tobias's point of view now? If it was going to happen, why not doing it from the firt book like Maggie Stiefvater in her Shiver series? Finding myself suddenly with two points of view didn't do it for me.
More than that, I couldn't grow fond of Tobias. I like him but not enough to feel sorry for him even if his life really is crappy. I wanted to slap him across the face more than once. During the last chapters, he grows up and evolves and I liked him a bit more, I have to admit.
The last chapters felt useless. For me, they could have been compiled in one big chapter after the two short chapters that brought a lot of emotion. But those that came after were just too much pathos for my taste.
Overall, this book is good. It answers all the questions we had from the start and closes the trilogy pretty neatly.
The ending seems quite open. I liked it. Not enough to make me read the short stories from Tobias's point of view but it's a nice way to wrap up the trilogy.